The Marina Industries Association (MIA) recently announced Port Denarau in Fiji has been awarded 'Marina Fish Friendly Marina Level 3' accreditations.
Port Denarau Marina is also among the Finalists for the Marina Industries Association (MIA) 'Club Marine Marina Awards' for the 2017/18 period. The awards celebrate industry best practice and provide a benchmark for other businesses to aspire. Port Denarau Marina a Finalist in the categories of: International Marina and Best Community Support Initiative by a Marina.
Port Denarau Fiji, along with Jumeirah Beach Hotel Resort Marina and the United Arab Emirates (UAE) were both awarded the 'Marina Fish Friendly Marina Level 3 accreditation; making it a 'first for the South Pacific', reports Asia Pacific Superyachts Fiji Dave Jamieson.
In an article in Oceans magazine, MIA President Andrew Chapman said the accreditations represent a significant milestone in the development of the global industry.
"Both these marinas are in emerging and strong marina growth regions. They are setting the benchmark for others to follow. What is also pleasing is that the marinas are using the Clean Marina program guidelines as an environmental template to upgrade facilities and services and for the environmental education of their clients and communities."
MIA notes Port Denarau Marina is the largest marina in Fiji and provides for both commercial and recreational boats. The marina achieved Level 3 Clean Marina as well as the Fish Friendly accreditation. The independent Clean Marina auditor was particularly impressed by the significant efforts of the marina's outgoing Managing Director, Nigel Skeggs, to improve environmental practices in Fiji. Nigel has been actively involved in contributing to the writing of a new Environmental Code of Practice and Fiji's Clean Boating Program.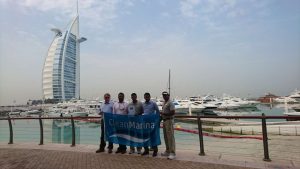 Skeggs said, "Achieving 'Clean Marina and Fish Friendly Marina' accreditation is very important for the marina and the wider community. The certification criteria provided a framework for us to plan and prioritise our infrastructure spending."
"In a fast developing marine tourism destination such as Fiji, it is important that marinas such as ours play a strong environmental leadership role. The Clean Marina program has provided important guidelines for us to provide this leadership. Our team are very proud of what we have achieved."
MIA also noted the accreditation comes at a critical time for Fiji as the Country Co-Chair of the upcoming Ocean Conference and Chair of the UN Conference of Parties dealing with Climate Change and Sustainable Innovation (COP23) later this year.
The Honourable Semi Koroilevesau said "As Minister of Fisheries and Ocean Champion, I wish to congratulate Port Denarau Marina on its recent achievements in receiving the Level 3 International Clean Marina and International Fish Friendly Marina accreditation status.
"Fiji's Honourable Prime Minister will be Co-Chairing the Ocean Conference with Sweden in New York in June and we hope to include these achievements as a Voluntary Commitment to the Ocean Conference."